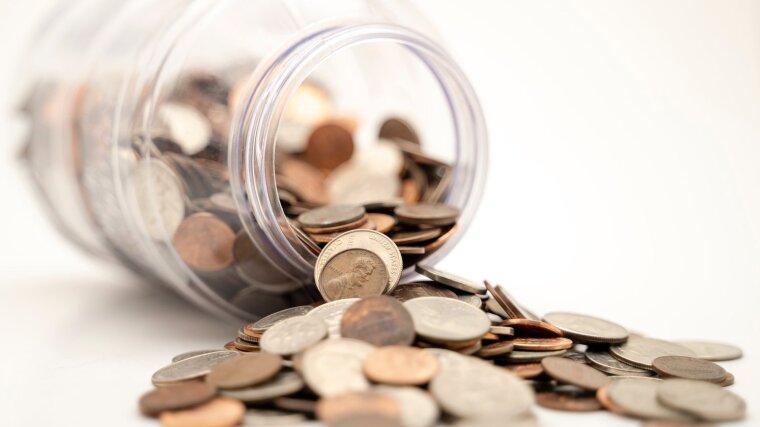 Costs
How much does it cost and where can you get support?
Coins in a container
Image: Michael Longmire auf Unsplash
Tuition Fee
The tuition fee is 4.300,- euros per semester plus (pro rata) semster contribution. 
The total cost of the master's program is 12.900,- euro.
The pro-rata semester contribution is also paid per semester and is an administrative fee of the Friedrich Schiller University (e.g. for enrollment and student card). Currently it is 74€, but it is adjusted every semester.  
The eHealth and Communication program is not subsidized by the state or the university and must be fully self-supporting through participation fees. We strive to keep the costs fair and stable. Among other things, the fee covers costs for personnel, examinations, rooms, materials and marketing of the study program.  The tuition fee includes all materials, lectures, seminars and exams. Not included in the study fee are travel and accommodation costs for the final weekend in Jena. However, our study coordination will be happy to assist you in planning your travel and overnight stay locally.
The tuition fee is exempt from sales tax (Umsatzsteuer) according to § 4 Nr. 22 UStG. Payment is made at the beginning of each semester and can also be paid in installments. Many emplyers support their emplyees' Master's studies - contact your employer!
Bildungsurlaub (educational leave)
For the more intensive weeks of the program, you can apply for a Bildungsurlaub (educational leave). Bildungsurlaub is a specific type of leave from work in Germany (except Bavaria and Saxony) which allows employees to attend further education and training while being fully paid and not losing vacation days. Our course is officially approved as a  Bildungsveranstaltung (educational program) by the following states:
We will be happy to send you a notice of recognition in the above-mentioned federal states on request. Usually, with this recognition, educational leave for our intensive week can also be applied for with the respective employer in all other federal states.
Support from you Employer
About 80% of our students receive support from their employer.
We have experienced a variety of support from employers for our students from time-off to partial or full payment for the studies. After all, you will gain new competencies through our Master's degree, which will also benefit your employer and make you (even) more valuable as an employee!  Not only will you gain new insights into the subject area of digital medicine, but you will also train your knowledge and skills in a targeted manner and can be part of a sustainable network that will enable you to enter into exciting new collaborations and long-term exchanges.
Therefore, we can only recommend that you seek discussion with your employer. We will be happy to answer any individual questions you may have on this topic (e.g. argumentation aids etc.).